Free Shipping
If your order is over 50$ , we provide free shipping.
24/7 Professional Support
Our suport team always ready for you to 7 days a week.
14 Days Refund
If the product has a quality issues,Product Refund is Eligible Within 14 Days of Delivery
UFO Interactive Cat Toy



 
 
All The Benefits:
✅Use feathers to play games with cats.
✅The feather telescopic speed is adjustable in three gears,allowing the pet to adapt slowly.
✅lt can move randomly, and turn automatically whenencountering obstacles and will not be stuck.
✅The bottom cleaning ring automatically takes away the hairwhen activated.
✅Aurora colorful mode, change the light, look pretty and cool.Feathers appear randomly to attract cats' attention.
✅

USB Charging, 

Build a 500mAh capacity battery which can ensure continuous use of several hours when be fully charged for 1 hour.
Different colors correspond to different modes
🟠Orange: Press the power button to start automatically, and it will automatically turn off after five minutes, as long as you can continue the activity after the vibration.
🔵

Blue: lntelligent recognition of day and night. It only operates during the day. After five minutes of operation, it will automatically sleep if there is no cat slapping.
🟣Purple: stop activity, all feathers are extended, and feather accessories can be replaced at this time.


USB Charging

Specifications:
Charging Method: USB Charging

Weight: 489g

Size: Diameter 15.6x9.2cm/6.14x3.62inch

Material: ABS + electronic components

Cat Accessories: Smart Feather Stick

Battery: Polymer Lithium-Ion Battery 500mAh
Package Contents
USB Cable x 1
Cotton Ring x 5
Feather Attachment x 3
Tweezer x 1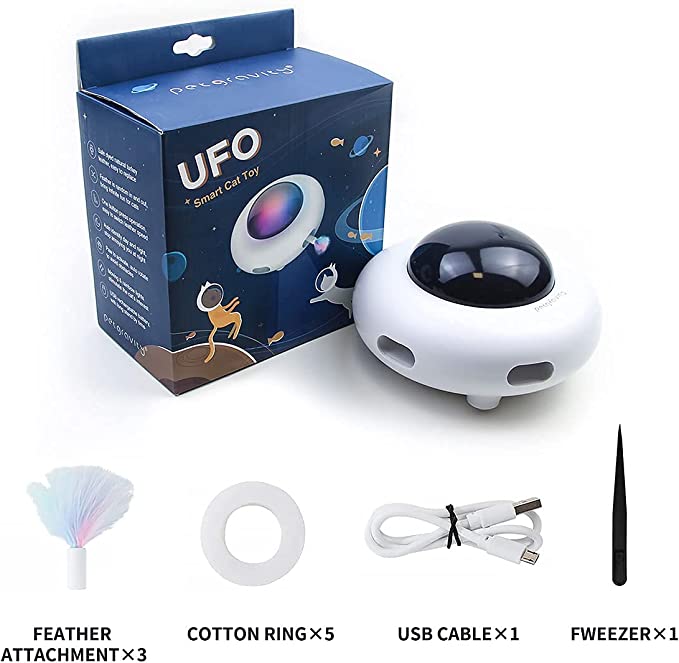 When the interior light or indoor light become dark, the toy might stop working owing to the build-in radial sensor, which will sense the strength of the radial.